Print town:
Brattleboro's Legacy of Words
For well over 100 years, Brattleboro was nationally recognized as a "print town."
Print Town: Brattleboro's Legacy of Words features over 30 authors with connections to Brattleboro, all lending a unique perspective and style to telling the story of Brattleboro's long history, and ongoing legacy, of printing, publishing, and "words".
Where to read. Where to buy.
Get Your Copy
There are a limited number of books available for purchase at Everyone's Books and at the Brattleboro Museum and Art Center (where  the beautiful murals and "Our Storied Landscape" exhibit for the Brattleboro Words Trail, which features many of the people and places Print Town explores was on display through 2/14/21).
The book retails for $40.
Copies are also available at some libraries, including Brooks Memorial Library. (Call your local library to see if they have a copy).
Thanks to the overwhelming response and interest in Print Town: Brattleboro's Legacy of Words, we are SOLD OUT of all 350 of our copies.
However, the Vermont Historical Society has books available for purchase online (and the ability to issue a future printings, if there is sufficient interest).
To ensure you are among the first to be notified when more books are available, please sign up here. We will send you an email alerting you.
Thank you!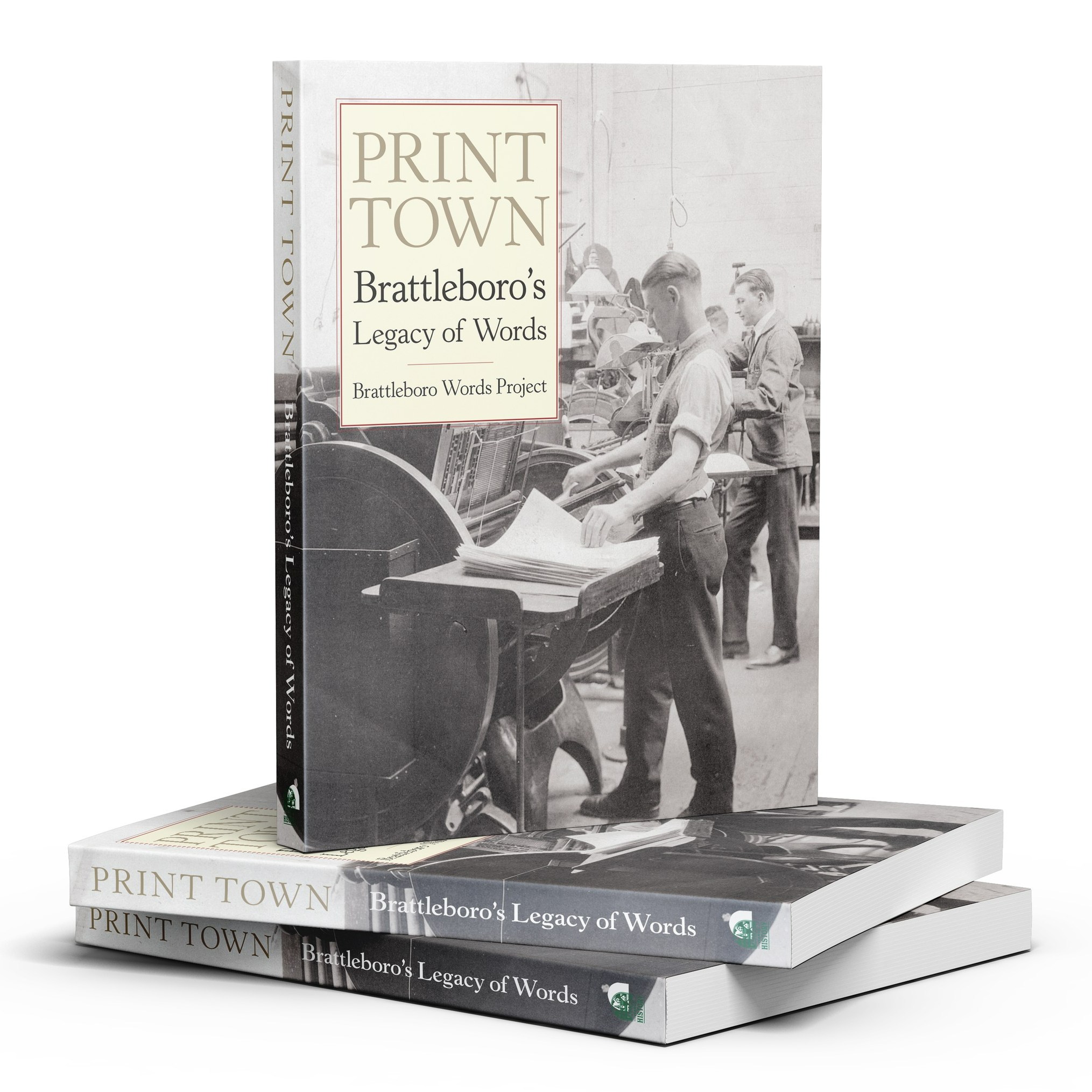 Cover of Print Town: Brattleboro's Legacy of Words, designed by James Brisson
The cover photo is the pressroom of the Vermont Printing Company, 1920. Seventeen-year-old Francis Harwood (foreground) operates a sheet-fed platen press. His co-worker, Clarence E. Shaw (rear), went on to establish Shaw Press in 1931.
This richly illustrated book features rare archival images and original illustrations.
Publisher: Vermont Historical Society.
Printed locally at Howard Printing.
The first printing was 450 copies, each numbered and signed by the designer.
Brattleboro Historical Society was founded in 1982 as a non-profit organization by a group of local historians and civic leaders interested in Brattleboro's past. The Society's mission is the telling of Brattleboro's story. Join us!