In 1922 Fred Harris sparked a winter sports tradition now on the cusp of its centennial anniversary. Listen to the audio story…
In the beginning the hill was 740 feet long. The landing space was 250 feet with a drop from the top to bottom of 284 feet. It was a big hill and it would get bigger.
In 1924, the trestle at the top of the hill was increased in height and doubled in width. In 1985 the hill was modified to satisfy the current standards for jumping. Mt. Snow joined the efforts, installing pipes for snow making. In 1991 renovations continued with work on a new starting tower. The hill stretched up, on steel scaffolding that raised jumpers above the four hundred million year old outcropping off Cedar street, as earth movers dug further into the cornfield-cum-outrun, creating ever more hill for jumpers to thwart.
The hill hosted State and Eastern Championships. In 1951 a field of 164 jumpers competed for a National Championship, on the newly christened Harris Hill Ski Jump, before a crowd of 10,000 spectators.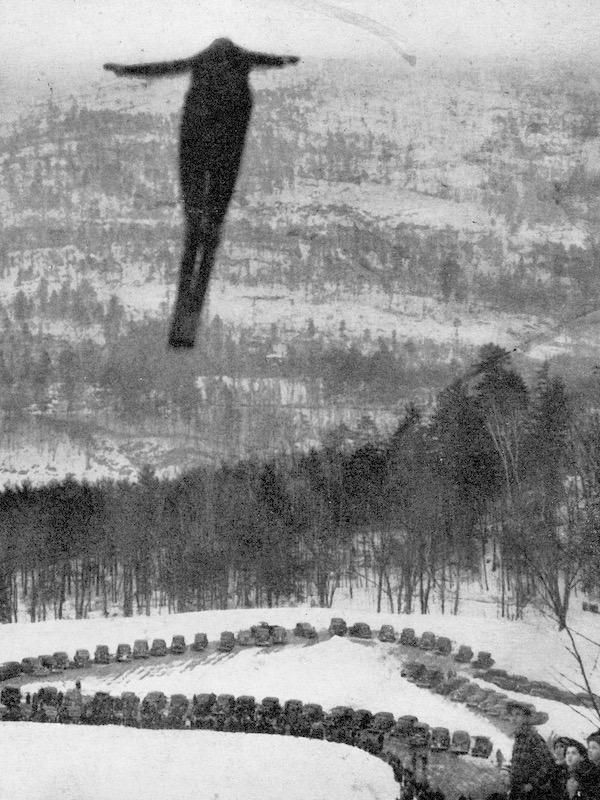 Over a lifetime Harris Hill has seen jumpers set and re-set national records. It has welcomed world class jumpers from around the US and abroad. As jumpers came to master the aerodynamics of ski flying Harris Hill grew again, stretching dimensions to accommodate the skill of modern athletes and  meet International Ski Federation standards in 2009.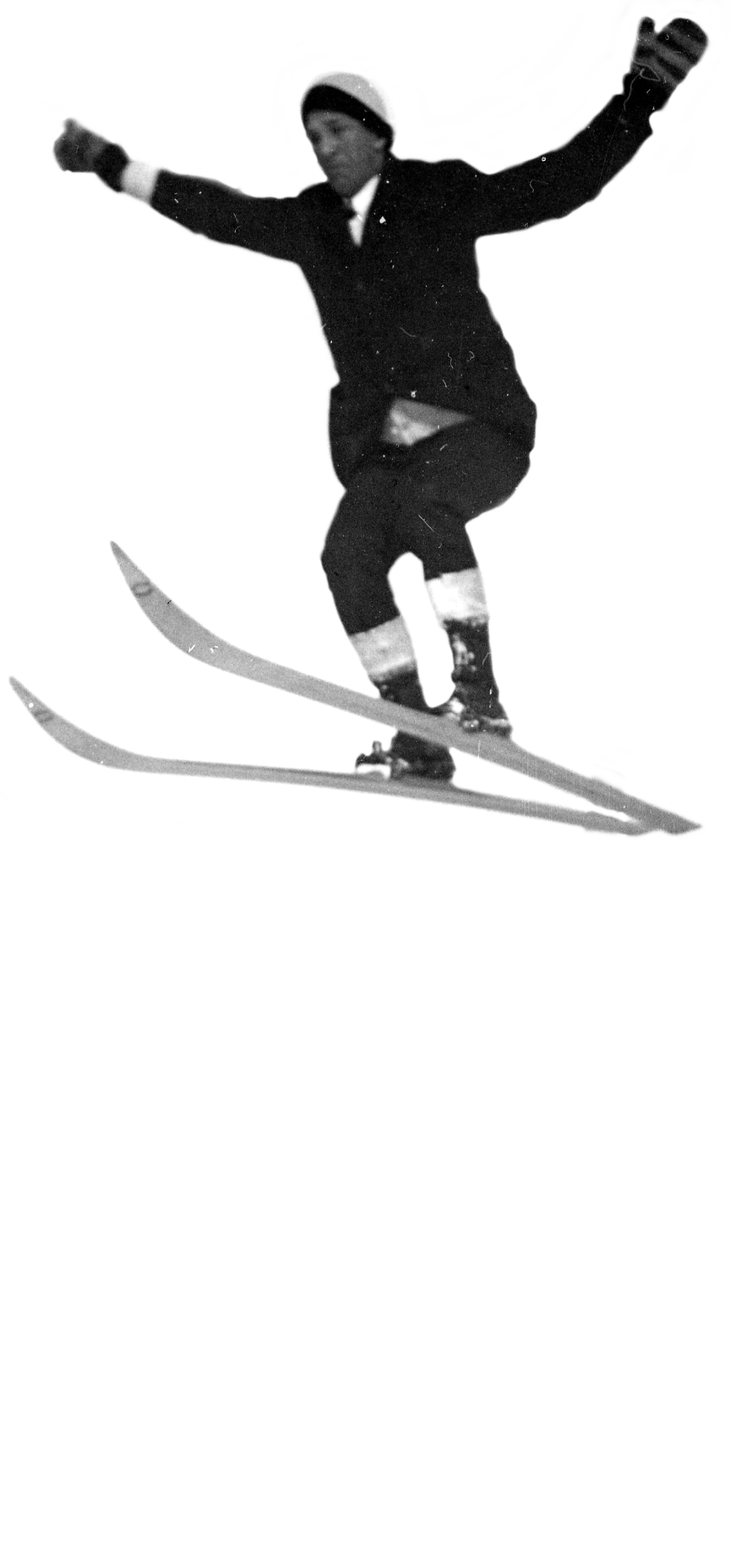 Fred Harris launching off a make-shift jump at the future site of Living Memorial Park, in Brattleboro.
Listen to an audio story about training for the Harris Hill Ski Jump.
Stephanie Greene is a freelance writer living with her husband and sons on the family farm in Windham County.
Stephanie is also a volunteer for the Brattleboro Words Project, serving on the leadership committee.
This audio program originally appeared on Vermont Public Radio, February 15, 2018.
Background Photo
Karin Friberg, 19, of Roseville, Minn., winner of the women's class, leaves the ramp at the 85th Harris Hill Ski Jumping Competition in Brattleboro, Vt., Sunday, Feb. 15, 2009. The event takes place at the newly rebuilt 90-meter Harris Hill jump. More than 20 male and female athletes from the U.S. and Europe  compete in the two-day event that dates back to 1922. It was created by Brattleboro resident Fred Harris, founder of the Brattleboro Outing Club. (AP Photo/Nancy Palmieri)
About Chris Lamb:
Chris Lamb is one of the bright lights of our Harris Hill Ski Jump  in Brattleboro.
He started competing here at age 11, and is a two-time winner of the Winged Trophy Award, setting the hill distance record in 2010.
Chris was on the USA Ski Jumping Team, and is on our local Harris Hill Ski Jump Committee.
He completed a bachelors degree in philosophy and environmental studies at Marlboro College, and he is currently a Ski Jumping coach with the Nordic Skiing Association of Anchorage.
On the Hill: An Audio Memoir was written by Chris Lamb & produced by the Brattleboro Words Project in partnership with the Brattleboro Historical Society, with music by Ty Gibbons & The ETC Kid.
Historical Photography
Historical photos found on this page were provided by the Brattleboro Historical Society. Special thanks to Lee Ha & Carol Farrington, who, with zero regard for  personal safety, dove the photo archive and transmuted prints into bits. Their bounty lines the walls of this page.
Gipsy Grounds
In Vermont, sociologists now recognize that the term "gipsy" was often applied to the indigenous Abenaki peoples, and their kin, some of whom adopted an itinerant peddler version of their annual subsistence cycles. In the nineteenth century, a local physician-cum-cartographer, Charles William Grau created a map of Brattleboro, noting an area off what is today Cedar Street as the "Gipsy Grounds." [sic]
Grau's "Gipsy" moniker was miss-applied, but about the deep history of this place he was not wrong. 
Indigenous Peoples
The Hill Before Harris
Listen to an audio story on the Gipsy Grounds produced for the Brattleboro words trail.
If the misapprehended Abenaki were in fact Dr. Grau's, "Gipsies," – and we know they were – then the misapplied moniker nevertheless hints at a truth within the Gipsy Grounds even deeper than Dr. Grau would ever imagine.
The earliest European settlers understood lands around Brattleboro sheltered Abenaki homes and villages prior to the influx of European settlers into southern Vermont. But labeling the Abenaki presence on these lands as pre-contact fails to express the magnitude of that history and character of this place. The Abenaki presence in this area doesn't just predate European settlers, it predates western civilization. By a lot.
As civic ideas started to slowly form in the ancient middle east, the Abenaki's ancestors had already been living throughout this area for over 5,000 years. It is perhaps fitting that ancient peoples would seek and find safety and sustenance in the shadow of a formation old even by geologic standards. Today, upon the erstwhile Gipsy Grounds, we find a cornfield that is commandeered by cars to form a parking lot for two days each winter. And atop the Abenaki's four-hundred-million year old outcropping of windward protection, rests Fred Harris' ski jump, Harris Hill.
Brattleboro Historical Society was founded in 1982 as a non-profit organization by a group of local historians and civic leaders interested in Brattleboro's past. The Society's mission is the telling of Brattleboro's story. Join us!