How to research your house
The question most frequently asked of librarians is, of course, where is the bathroom? The question we are most frequently asked is, what is the history of my house.  This handy guide can help you navigate the journey of home history discovery.
Still Need Some Help?
Call: 802-258-4957
Email: [email protected]
Visit: 230 Main Street, 3rd floor, Brattleboro, Vermont
Getting Started
Be aware that unless something quite historical happened in your house, Brattleboro Historical Society most likely won't have specific information regarding your house. But that doesn't mean we can't find out about it-all it takes is detective work. Although house numbers are important to start your search, the names of the owners or people who lived there will be important later.
Try the Town Clerk
Your best bet is to start at the Town Clerk's Office on the first floor of the Municipal Center and tell them your mission, to find out as much as you can about your house. You can add that you expect to continue your search at BHS after you deplete their references. You can give them your current address and they will point you in the right direction in their office where you will be able to trace your house deeds, back to its construction.
Original Deeds
In the case of older homes, you will be looking at original deeds which were meticulously handwritten in beautiful script. You want to copy pertinent information, especially names and dates. Better yet, take pictures and use them for reference. If you are looking for only building information you can go to the Planning Office on the 2nd floor of the Municipal Center and look at permits taken out to renovate your property.
The Research Room
After you have finished at the Town Clerk, you can go to the BHS Research Room on the third floor and we will be able to help you find information in our files, if there is any. We have the Manning City Directories which will list your house by street number and occupant and often occupant's occupation. Then we can show you how to search online to find out what interesting things previous owners were up to. We will also search for photos of your house–sometimes we have those.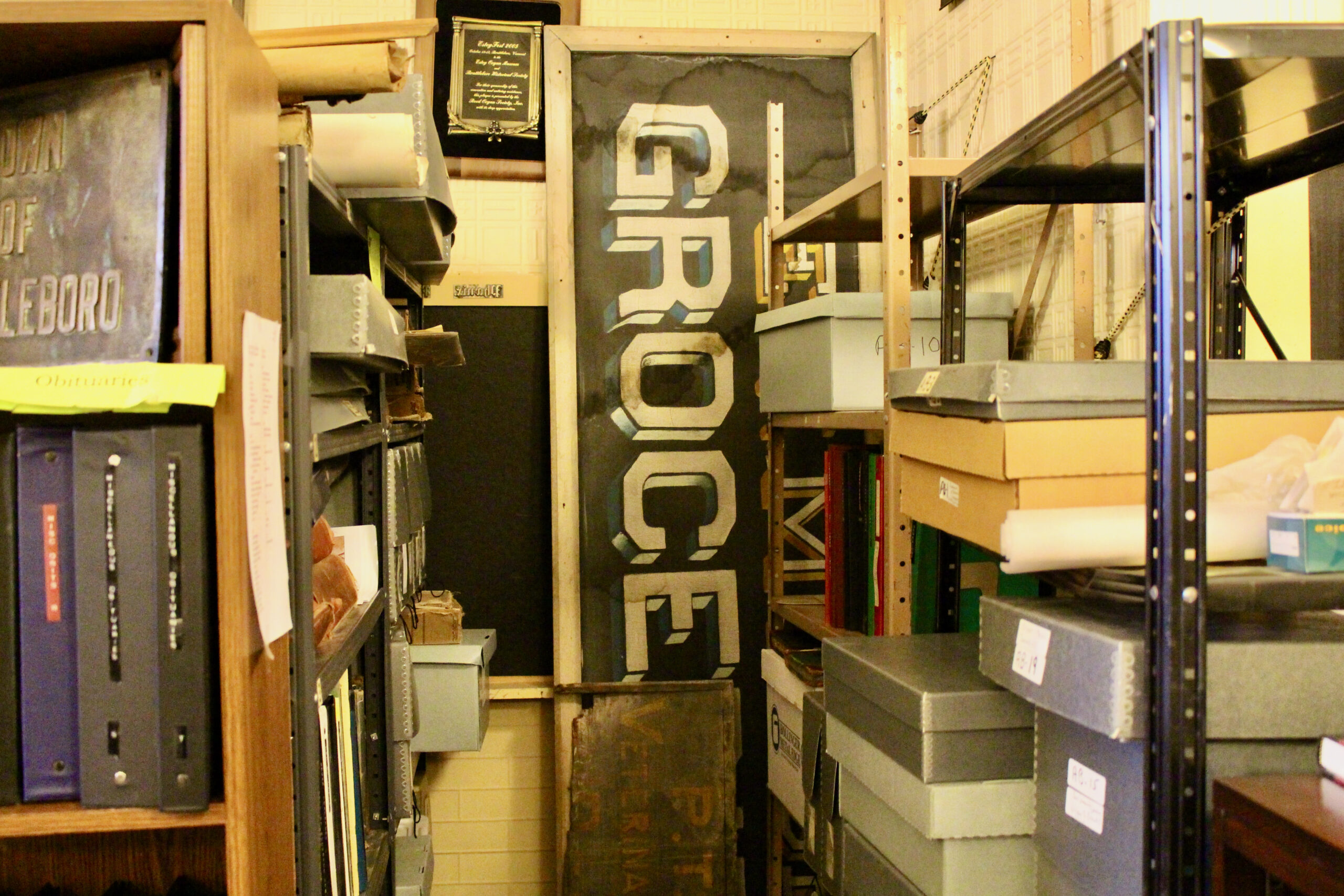 Chronicling America
Searching newspapers online is available in a few places. One excellent free site is chroniclingamerica.loc.gov at the Library of Congress. Just be sure to limit your search at first to Brattleboro newspapers. Another excellent site is available through the Vermont State Archives and Records Administration.
 Millions of pages from Vermont newspapers beginning in the 1700s have been digitized and are now available online through the MyVermont.gov state portal. MyVermont.gov accounts are free and can be created by visiting https://secure.vermont.gov/myvermont/.
Print Town
Luckily, Brattleboro has a number of digital newspapers in this service dating back to the Federal Galaxy in the late 1790s. You can search all the digitized papers by keyword, so searching by owner's name or street address might turn up the date the barn on your property was built. Old newspapers were an early version of Facebook so there are all kinds of information about the goings-on in different Brattleboro neighborhoods.
If you think of yourself as a history detective you can discover new and interesting facts about your home and who used to live there.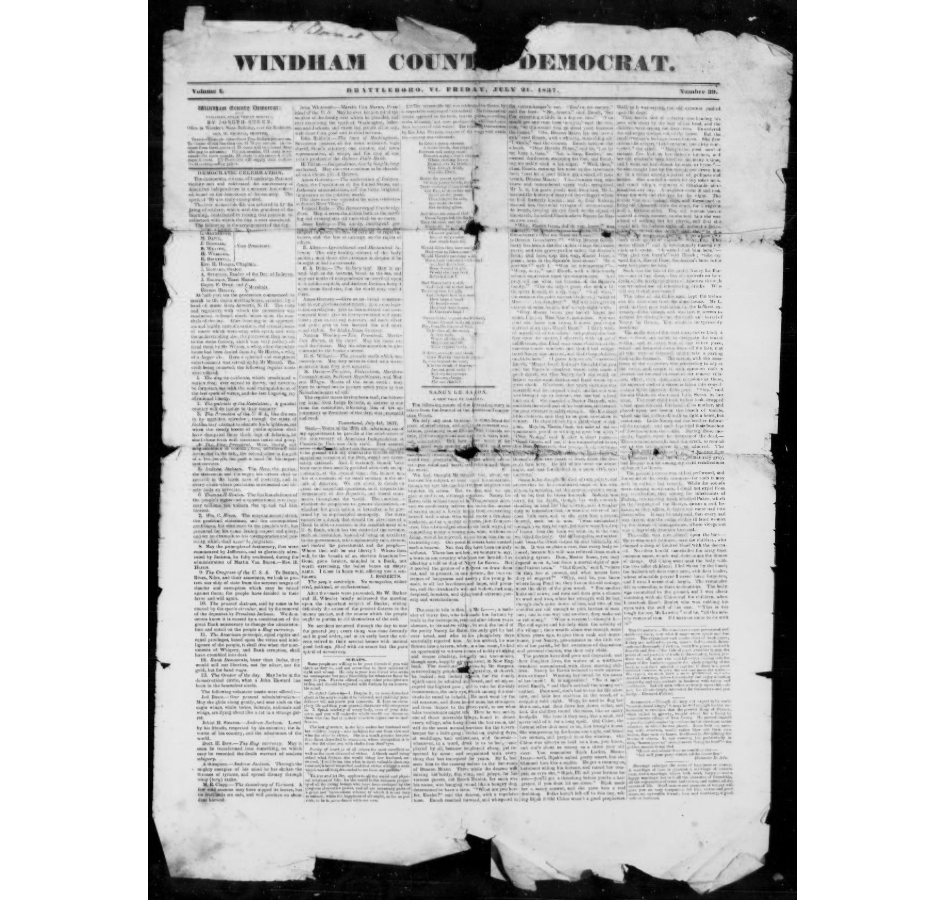 The home in this image is an example. In 1791 Lemuel Whitney moved to town and bought about an acre of land near the corner of Main and Walnut Streets. He had his two-room house, located in Newfane, moved to Brattleboro and placed on his property. As the years went on he added to and improved the home until it became one of the finest on Main Street. Whitney served in the local and county courts for more than fifty years, becoming a judge. He served in the state legislature for over ten years and was very active in town government. He died in 1847.
Charles F. Thompson bought the property and converted part of it into a hardware store while maintaining the home. Around 1885-86 George Dowley, President of the Vermont National Bank bought the property and had it remodeled. In 1928 Mrs. Ada Dowley passed on. The building has since housed a florist shop, Western Union offices, New Method Dry Cleaning, law offices, a car dealership, and, from 1937 to 1947, the "House of Flowers Tourist Home". The house is presently located behind the Edward Jones business on Main Street, across the road from the Burnham building. Good luck with your search!
Brattleboro Historical Society was founded in 1982 as a non-profit organization by a group of local historians and civic leaders interested in Brattleboro's past. The Society's mission is the telling of Brattleboro's story. Join us!